And we know a thing or two about bringing professional salon services safely to you – Office Cuts and SalonOnTheRun have been doing just that for over twenty years. Now you and your family can enjoy everything from highlights to fades, right there safely in your own home.
In Your Home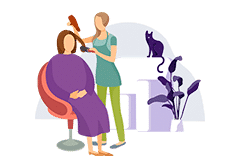 You can trust our team of licensed barbers and stylists to deliver professional services in the safety of your own home. From highlights to fades, we provide all the comfort of the salon without leaving your home. Contact us today and a stylist will consult with you to choose the perfect fit for your family's needs.
At Your Office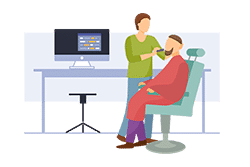 When you have to go to the office, we can bring the salon to your workplace! Your convenience is our top priority. That's why we bring everything needed to provide a quality haircut while you're at work. Get in touch today to learn more about how our expert team can serve you and your team at the office.
Join Us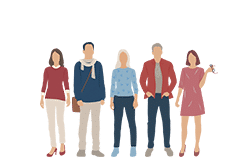 If you're a Salon Owner, or an independent barber-stylist, we want you! Please consider joining our team. SalonOnTheRun is revolutionizing the way clients get their salon services. Ready to add Delivery to your services? Easily visit your own clientele, and new clients in your community? The new normal is to provide Salon services in the safety of the client's home. We can outfit you with a patented, portable salon, and get you started in your own business, with 100% support. Contact us today to learn more about our philosophy and process. We'd love to hear from you!